Visual Design Intern, Stagger Inc. 2021-2022
Stagger is a startup in Austin, Texas created to help small businesses design engaging content that attracts their audience while still upholding their brand. It is also a tool made to help small business owners incorporate effective visual storytelling into their social media marketing. Stagger collects data from the small business' website to gather assets such as brand colors, logos, typeface, and imagery to help maintain the brand and make designing a breeze. Stagger also provides insights into the best practices to help users make smart design decisions. 
Stagger Slicks, later renamed to Stagger Flyers, explores what the editor's interface would look like if Stagger implemented a system that allowed users to create magazines and publish them digitally.
The product manager provided a list of features to be included within the product.  After reviewing several digital layouts and publishing platforms, a flowchart and detailed user story were created to further understand how each task would be performed.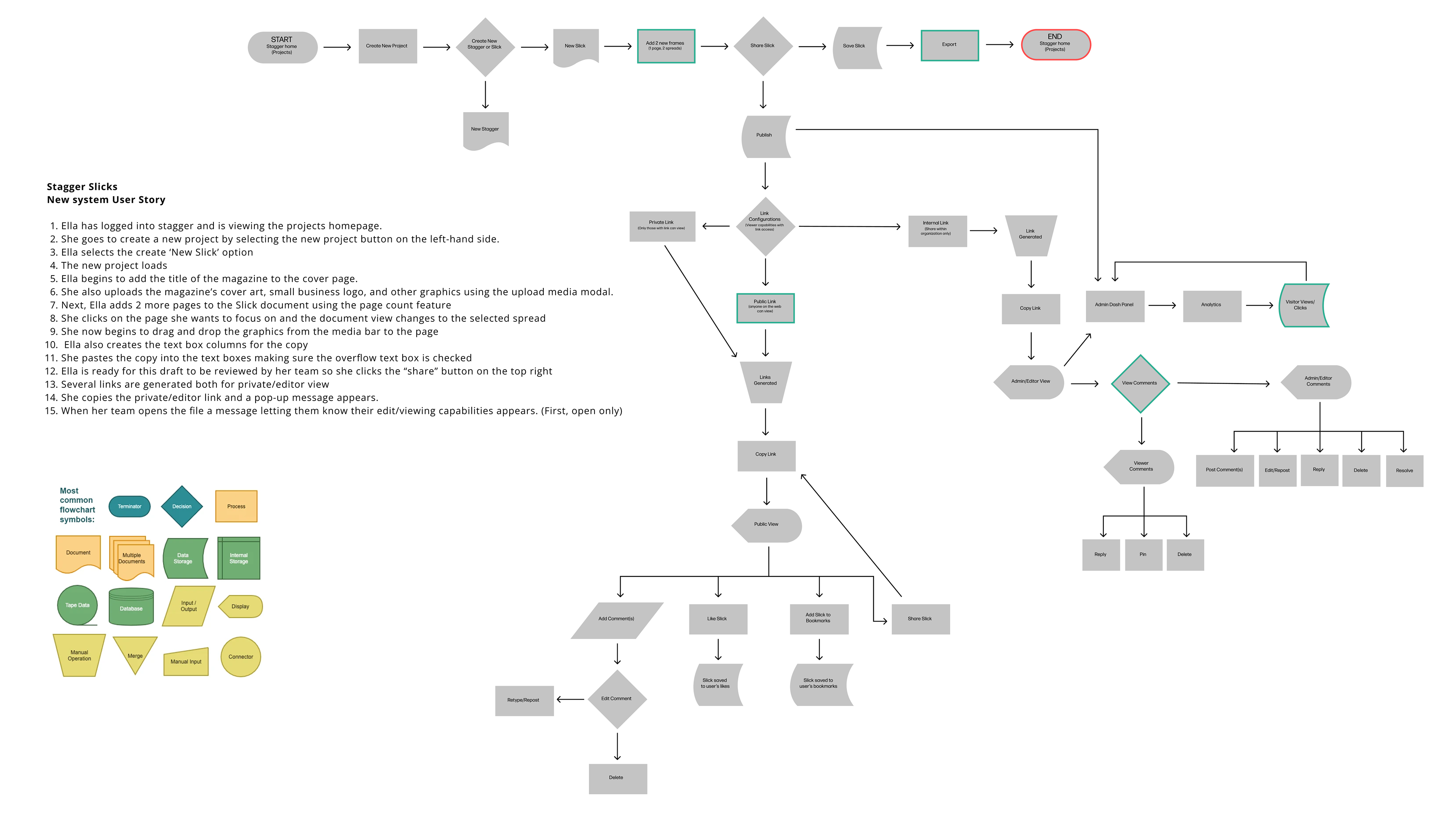 The low-fidelity wireframes shown below each depict a step previously explained in the user story. These rough wireframes helped with the visualization of the overall product and allowed for the early stages of user testing and feedback. The biggest challenge while re-envisioning this editor was building out the admin and collaborative features. These capabilities were important to allow users to work with their design/editing team. After receiving feedback from the product manager and development team and further expanding the user story the roadmap for these tasks became much clearer. The next step was to begin building the prototype in Figma using Stagger's Design System.
A closer look at the stylized wireframes can be found in the following frames.
Upon completing this exploration, Stagger Slicks was renamed Stagger Flyers. Stagger Flyers was rolled out in early 2022 and targeted the home professionals market using QR code technology. Stagger encouraged these professionals to showcase their work through digital interactive portfolios published on their accounts. In addition to prototyping the early functionality of this new feature, I was able to create a handful of templates that users could garner inspiration from and later customize on their own. By combining art and data analytics, Stagger continues to help businesses, agencies, and influencers engage their audience through digital brand storytelling.